NM Xcursions will return in May 2017. Please contact us for private tour options year-round. 
---
For the first time ever, New Mexico visitors (and locals) can enjoy full tour packages designed and hosted by ABQ Trolley Co., a division of Albuquerque Tourism & Sightseeing Factory (AT&SF). 
NM Xcursions are full-day tour outings in Albuquerque, Santa Fe and surrounding areas. Provided seasonally on AT&SF's newest vehicle, ABQ Trolley X, excursions immerse patrons in local art, culture, nature, and history.
NM Xcursions take place Tuesday-Friday, May-October. Full schedule details at www.abqtrolley.com. More excursions are in the works and will be unveiled soon. 
Read more about NM Xcursions in the Albuquerque Journal and Albuquerque Business First.
---
Tuesdays -- TBD
---
Wednesdays -- Classic Santa Fe
Explore the historic heart of Santa Fe on this full-day excursion. At the crossroads of trade routes and the intersection of Native American and Spanish cultures, Santa Fe is the site some of New Mexico's most compelling stories. This excursion showcases the historic Santa Fe Plaza and begins with a visit to the New Mexico History Museum and Palace of the Governors. After lunch at the Burrito Co., we'll explore the "miraculous" Loretto Chapel. The rest of the afternoon includes time to explore the Plaza's shops, galleries and landmarks on your own.
Tickets are $99 and include round-trip transportation, water, lunch and admission to all sites.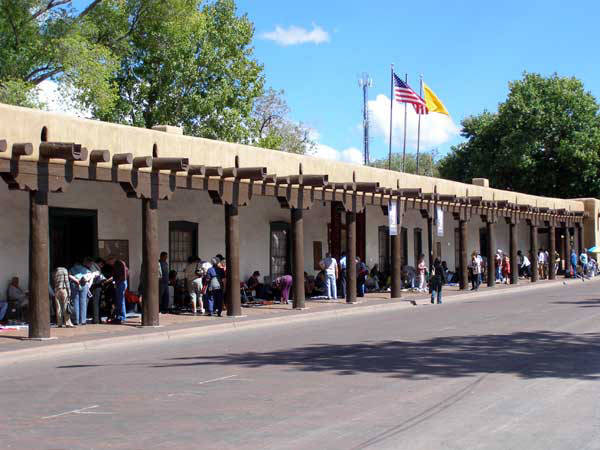 ---
Thursdays -- Turquoise Trail
Venture off the freeway and onto the Turquoise Trail National Scenic Byway. The name comes from the blue-green turquoise first mined by the early Pueblo people dwelling along the Rio Grande. The scenic and historic area encompasses 15,000 square miles in the heart of central New Mexico, linking Albuquerque and Santa Fe. The Turquoise Trail is synonymous with Native American spirituality, Spanish explorers, adventurous mining, and brave pioneers. This excursion showcases the off-beat attractions that make the Turquoise Trail so unique. We'll begin at the you "gotta see it to believe it" Tinkertown Museum located on the road to Sandia Crest. From there, we will head to the funky town of Madrid, home to an array of artists, crafts people and renegades. Enjoy free time on the main drag or a stop at Maggie's Diner, featured prominently in the movie, Wild Hogs. After lunch at the popular Mine Shaft Tavern, we will continue on the Trail to the old mining town of Cerrillos (which doubled as Lincoln, NM, in the movie Young Guns).
This excursion begins at Hotel Albuquerque and includes round-trip transportation, water, lunch and admission to all sites.

---
Fridays -- Not Your Father's Santa Fe
AT&SF is partnering with revolutionary arts production company, Meow Wolf, to invite guests to step outside of the adobe box in Santa Fe. This full-day excursion follows the Turquoise Trail from Hotel Albuquerque to Santa Fe for a fully immersive and unique tour. The final destination is Meow Wolf's House of Eternal Return for an other-worldly experience described as "surreal" and "mind-blowing." Other highlights include unusual art collections, a ghost town brought back from the dead and lunch at Duel Brewing. This is the perfect tour for visitors who want more from Santa Fe than traditional arts, museums and historic sites. 
Tickets are $99 for this full-day Xcursion and include round-trip transportation, admission to all sites, lunch and a pint from Duel Brewing. 
Click here for a detailed itinerary.