ABQ Trolley Co. was dreamed up in 2007 by two Albuquerque tourism industry professionals, Jesse Herron and Mike Silva. After nearly two years of planning, ABQ Trolley Co. opened its doors to the public on May 5th, 2009 (Cinco de Mayo!). Albuquerque has never had this type of unique tour service and has not had a city tour service in nearly a decade. We established the company because we love this city and also to provide a much-needed front-row seat to the sights and sounds of Albuquerque, New Mexico. We are a city-tour company providing guests a glimpse of a place we know and love. More importantly, we help people fall in love with Albuquerque.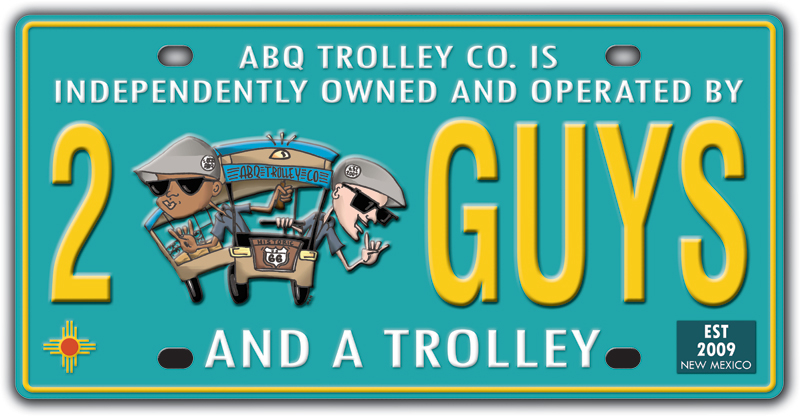 We take guests on a 85-minute, 18-mile Best of ABQ City Tour using a completely-custom, uniquely-Albuquerque, open-air Trolley; in fact, there is no other destination in the entire world that has a Trolley like ours! We consider ourselves the best first thing to do in Albuquerque. Invest 85-minutes in our Best of ABQ city tour and you will learn the lay of the land, get a glimpse of our rich history, and obtain an overview of all that Albuquerque has to offer (it surprises most people how much there is to see and do in Albuquerque). You can then return to the locales that most interest you, ensuring you spend your time in the most rewarding manner possible. We feel a real sense of accomplishment when our guests have enough knowledge and motivation to explore Albuquerque on their own. At ABQ Trolley Co. we strive to provide the best visitor experience in the city and we do our best to offer a comprehensive tour that truly represents Albuquerque.
There is no better way to experience Albuquerque than with ABQ Trolley Co. It will be our pleasure to guide you through ABQ on our one-of-a-kind Trolley! Purchase your tickets online now.
---
THE BEST FIRST THING TO DO IN ALBUQUERQUE
At ABQ Trolley Co., we consider ourselves the best first thing to do in Albuquerque. We chose this phrase to describe our business because we honestly believe it. We are often responsible for a visitor's first impression of Albuquerque; a responsibility we take veryseriously. Choose ABQ Trolley Co. as the first thing you do on your trip to Albuquerque; you will be better able to plan the rest of your stay. Let us initiate you to all things ABQ! Invest 85-minutes in our Best of ABQ City Tour for a comprehensive introduction to Albuquerque. Whether you are visiting Albuquerque for business or pleasure, a day or a lifetime, you will be glad that you spent the time with ABQ Trolley Co. 
Photo: ABQ Trolley Co. founders, Mike Silva (left) and Jesse Herron (right). Photo courtesy of Albuquerque The Magazine.