We are proud to show you our wonderful city on a completely-custom, uniquely-Albuquerque, open-air trolley. There is no other city in the country (or probably the world) that has a trolley like this. When we first started ABQ Trolley Co., we wanted to bring something to Albuquerque that would capture the essence of the City; we definitely did not want to use something ordinary like buses, shuttles or mini-coaches. Classic Trolley in Medford, Oregon, was chosen as the builder. Uniting with Classic Trolley, we designed a trolley that incorporates specific elements that are uniquely-Albuquerque. These include wrought-iron rails (as opposed to traditional brass); a stucco-texture paint treatment (as opposed to the red often seen on more-traditional trolleys); custom mosaic tile art pieces; and a completely open-air interior to allow for total enjoyment of Albuquerque's 310 days of sunshine!
Click here for more photos of the Trolley.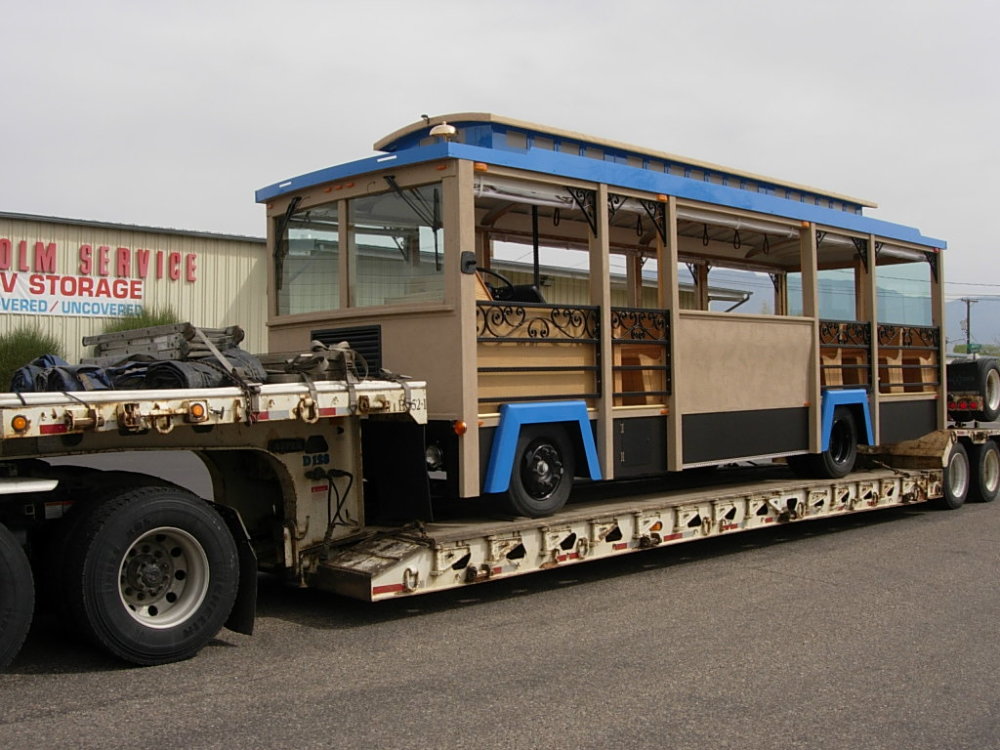 Photo: The Trolley being delivered to Albuquerque on the back of a flat-bed truck, March 20, 2009.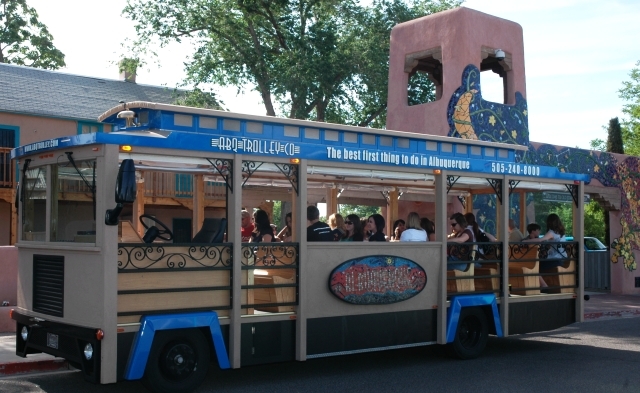 Photo: The completed Trolley after being installed with custom graphics and mosaic tile art pieces.
Our Trolley is open-air. There are no windows, walls, or enclosures; only a roof shades guests from the warm New Mexico sunshine (sunscreen is highly recommended). We do have drop-down rain curtains to shield our guests from the weather; however, a light jacket may be necessary in some months. Check the local forecast for Albuquerque here. 
We are excited to announce that the Trolley has arrived in Albuquerque! Check out our T-Day: The Trolley Has Landed! gallery for photos.